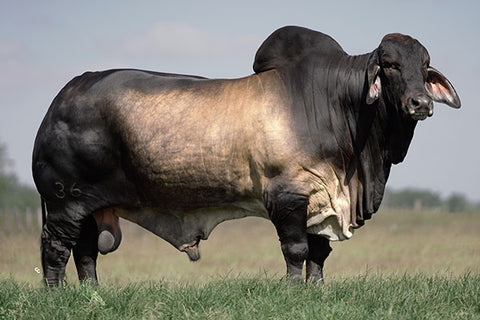 B.R. Cutrer, Inc.
BRC Republic of Texas 36 "El Tejano" Semen
Stored at Brushy Creek Custom Sires. 
Registration #: 1008836
Sire: +BRC Noble 458/7
Dam: Miss V8 507/7
BRC Republic of Texas is a sire that does it all! His deep red, almost jet black color is one that is favored by many around the world, yet he has a 100% grey Brahman pedigree. He's also low birthweight, making him a candidate for any Brahman female worldwide. He's stout made, with great breed character, lots of performance, and backed by the world's best Brahman bloodlines including the great cross of Noble x 380. His dam, Miss V8 507/7, is a great 380 daughter that we acquired half interest in when we purchased the Southern herd. She was a consistent class winner on the open show circuit including a division champion at Houston as a calf. Whether you're breeding red or grey -or both - Republic of Texas is a young sire prospect destined to make an impact.
Certificate are $100 each and available at shopbrcutrer.com
Semen not available in Canada.
By purchasing this semen and checking out online, you agree to the terms and conditions listed in the online store and at https://shopbrcutrer.com/pages/terms-of-service-semen-policy.